ZNE is the New Green
Wednesday, December 3, 2014
9:00 a.m. US Eastern time (2:00 p.m. UTC/GMT; 14:00)
AND
2:00 p.m. US Eastern time (7:00 p.m. UTC/GMT; 19:00)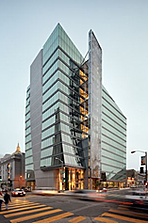 Public Utilities Commission,
San Francisco, California.
Photo courtesy of:
The global market for Zero Net Energy (ZNE) buildings is expected to grow at a rate of 50% through 2018. This significant market opportunity will impact a variety of worldwide markets related to construction and renewable energy, including:
·
Energy-efficient materials, energy utilization, and energy generation
·
Commercial as well as residential buildings
·
Renovation and new construction
·
Building and energy products and engineering and installation services
·
Regional and country opportunities
·
Major players involved in the market
As the green building movement shifts into high gear, the industry is setting its sights on the next milestone – Zero Net Energy (ZNE) buildings. Not just "energy efficient," these buildings redefine sustainability as buildings that consume only as much energy as they generate in one year. This requires investment in energy-efficient materials and energy utilization, as well as energy generation.
As ambitious as it sounds, ZNE buildings are already populating the landscape, visible as showcase facilities in major cities and as the centerpieces of many academic and government campuses.
How will you take advantage of this burgeoning market? This complimentary webcast will address the following:
·
How will ZNE spending unfold over the next five years?
·
What initiatives are driving ZNE spending?
·
Where in the world are ZNE initiatives taking place?
·
How can architects, engineers, manufacturers, and energy companies align themselves with ZNE trends?
Note: This webcast will be recorded for access on demand. Please pre-register to receive notifications.